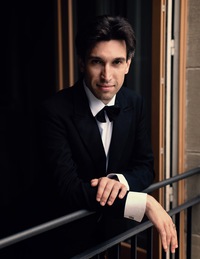 Досье Ivan Hovorun
Адрес:

Великобритания

,

Manchester



Происхождение: Manchester
Дата рождения:15 Октября 1983
Сайт:
vk.com/id10457576
offline
Следить за пользователем
Ivan Hovorun родился 15 Октября 1983 года. Он был рожден в городе Manchester. Также, мы выяснили, что сейчас он проживает в городе Manchester, Великобритания. Ivan считает, что только монархия оптимальная форма власти. Ivan относится к алкоголю нейтрально.


Друзья пользователя:
Вот, что рассказывает Ivan о себе:
A Ukrainian-born pianist Ivan Hovorun began his piano studies at the age of five with his mother, Lubov Hovorun. He received his early education at Krushelnytska Special Music School and Lysenko Music Academy in Lvov.  Ivan gave his first solo recital when he was nine years old and at the age of eleven he performed Beethoven Piano Concerto No.1 with Lvov Symphony Orchestra.  Since then he has been annually appearing as a soloist with Lvov Symphony Orchestra, presenting various piano concertos including Tchaikovsky No.1 in 2001, Rachmaninov No.3 in 2002, and the Rhapsody on a Theme of Paganini in 2003.
 In 2004 Mr. Hovorun was awarded a scholarship to study with Norma Fisher at the Royal Northern College of Music, from where he successfully graduated with his Master of Music degree, studio of Graham Scott.
 Ivan Hovorun has taken part in masterclasses by Howard Shelley, Barry Douglas, Stephen Hough, Charles Rosen, Peter Donohoe, Imogen Cooper, Stephen Kovachevich, Jean Efflam Bavouzet, Arie Vardi, Dmitri Bashkirov, and has also received tuition from Nelson Goerner, Alexander Melnikov and Michel Beroff. 
 Ivan is a prize winner of numerous competitions and scholarships including Ragusa Ibla International Piano Competition (Italy), Farbotony national Piano Competition (Ukraine), Intercollegiate Sheepdrove Piano Competition, the Philharmonia Orchestra Martin Musical Scholarship, the Myra Hess Award from The Musicians Benevolent Fund , the Hattori Foundation Award, the Grant from Solti Foundation, the Yamaha UK Scholarship, and the John Halsall Scholarship (United Kingdom).  His concert and festival appearances include James MacMillan Festival (2008), Alexander Goehr Festival (2009), Judith Weir Festival (2010), performances at the Wigmore Hall, and solo recitals at the St. James Piccadilly, One Moorgate Place in London, and Manchester Town Hall (in aid of the Manchester Chopin Monument, 2010 anniversary).
 As the winner of  auditions at the RNCM Mr. Hovorun was chosen to perform Mozart Piano Concerto in D major, K.537 with the RNCM Chamber Orchestra, Haydn's Piano concerto in D Major with the Manchester Camerata, and Liszt's Hungarian Folk Melodies with the RNCM Wind Orchestra at Bridgewater Hall and Manchester BBC Studio 7.
 In 2010 Ivan Hovorun made his solo debut at the Bridgewater Hall for Manchester Midday Society and was offered to record solo promotional CD/DVD by the Duet (MIFCO).